"Linux Gazette...making Linux just a little more fun!"
---
| | |
| --- | --- |
| | Contents: |
---
News in General
---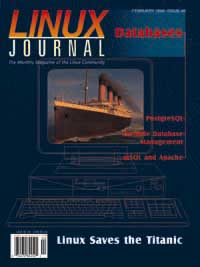 February Linux Journal
The February issue of Linux Journal will be hitting the newstands this week. The focus of this issue is Databases. Also, included is an article on the making of the movie Titanic -- Digital Domain used Linux extensively in generating the graphics for this movie. Check out the Table of Contents.
---
Apache Webserver Serves Over Half the Internet
Date: January 5, 1998
The Apache Web Server, from the Apache Group (http://www.apache.org/), now serves over half the domains on the Internet, according to the latest Netcraft Web Server Survey (http://www.netcraft.com/). According to the January 1998 survey, the Apache server and its derivatives serve 50.24% of the 1,834,710 sites found by Netcraft.
For complete press release, click here.
---
Linux on Celsius Workstations
Date: November 28, 1997
Siemens Nixdorf (SNI) is selling there new "Celsius" Workstations with WinNT AND Linux. SNI is the first major Producer that offers Workstations with Linux on board. The Linux-Support is done by the well known Linux Distributor SuSE GmbH. The machine is targeted for the universitys and already in use there with linux. The "Celsius" is based on a Pentium-II with 266/300 Mhz, 512KB Cache, 32MMB ECC-SDRAM, 2GB drive, a PCI/AGP based matrox millennium II with 4MB, FastEthernet, Diskdrive and Keyboard. The price shall be between 7300-8200DM but its exspected to fall. According to SNI the "Celsius 1000" (300Mhz Version) gets 11,9 SPECint95 and 8,6 SPECfp with WinNT. (no Linux values yet.)
---
Freeware OCR Project
A mailing list has been started for discussion of the design and implementation of a freeware Optical Character Recognition program for Unix.
Scanner support for Unix is under rapid development thanks to projects such as SANE, and applications such as GIMP are beginning to benefit from this support. OCR is one major application missing from the freeware Unix world, and has long been on the FSF's project list, as well. The project is going to have to create both a user interface and a character recognition engine.
The project Web page is at http://starship.skyport.net/crew/amk/ocr/; look there for announcements about the project's status.
For more information:
Andrew Kuchling, amk@magnet.com
---
5th International Linux Kongress 1998
The 5th International Linux Kongress 1998 will be held from June 3 to June 5 at the University of Cologne (Köln). It follows the tradition of the Linux conference series (Heidelberg 94, Berlin 95/96 and Würzburg 97) which has evolved into the most important meeting for Linux experts and developers.
The conference will offer up to 25 talks during two days (June 4 and 5) in two parallel tracks. The first track will be dedicated to Linux development, the second track will be intended to accomodate talks about Linux applications and usage. Each talk will be 40 minutes (possibly including discussion). The language of the talks will be English or exceptionally German.
For more information:
GUUG office, Ms. Bester, info@linux-kongress.de
http://www.linux-kongress.de/
---
Linux in the News
Articles by Charles J. Fisher worth checking out in Unixworld On-line:
Creation and Maintenance of Virtual Hosts
Linux, PPP and Windows 95

-------------------------------
More Linux articles:
"Linux Grows Up" -- Red Hat's commercial Linux beats NT at its own game.
Computer Currents
"Intel-Based Unix: A Great Solution for Intranets"
Federal Computer Week
-------------------------------
Better late than never:
On November 15 Linus announced that the F00F bug had been fixed in the 2.0.x kernel. Click here to read what he had to say.
---
Linux Bibliography
After a three month hiatus, the Linux Bibliography is back on line. The bibliography has grown a lot in size since it was last "live": there are now almost 50 Linux specific titles listed.
While the site is back up, it is still in beta mode. You'll need a Javascript compatible browser to see it, and some of the JavaScript appears to be a bit buggy with older browsers. Most of the forms are working, but not all of them just yet.
For more information: Mark Stone, markst@shell.nanospace.com
---
Linux Business Solutions
Announcing: A project to generate and improve documentation of Linux Businesss Solutions. This project is a few days old, so far. http://linas.org/linux/web-project.html.
There is a separate mailing list for this project. Web page owners, writers, marketing types & document mangement hackers are encouraged to join.
For more information:
linas@linas.org
---
The Linux Project Server
The Linux Project Server has a new home page providing counters, guestbooks and many many other such scripts.
For more information:
Gerhard Poul, gerhard@shadow.ccc.at

---
Freely Redistributed Software Track - USENIX'98
Come hear the latest about the full range of freely redistributable software--with pointers to the code--including Linux, FreeBSD, GNU, netBSD, OpenBSD Samba, and more.
FREENIX, The Freely Redistributed Software Track, at the USENIX 1997 Conference held June 15-19, 1998 in New Orleans, Louisiana.
For more information: http://www.usenix.org/events/no98/
---
Linux Software Database
The Linux Software Database is now up and running at http://www.txcc.net/~cl/.
Unlike software sites that list only what software the author has found the LSDB allows Linux users connecting to the database to add software thay have found or use. This way both authors of software and users of the site can add there titles on-line.
For more information:
cl@txcc.net
---
S.u.S.E. Discussion Groups
S.u.S.E. has set up two lists for discussions and announcenments concerning the S.u.S.E. Linux Distribution:
suse-announce-e -- Announcements of S.u.S.E. LLC (english) suse-linux-e -- Discussions about S.u.S.E. Linux (english)
To subscribe, send an email to majordomo@suse.com with 'subscribe listname' in the body.
For more information:
Bodo Bauer, bb@suse.de
http://www.suse.de
---
The Linux Resource Kit
The Linux Resource Kit has been expanded to included current news and information on:
Web Servers
Groupware
Networking/Routing/WAN
Client/Server Database
Microsoft/Novell/Apple/NFS file and Print sharing
System Administration
For more information:
Joe Royall, joe@secretagent.com
---
IACT & Linux users
A message from the Land of Beyond web site!
We have devoted a new section for IACT, the "International Alliance for Compatible Technology." Users of major platforms such as OS/2, Linux, FreeBSD, BeOS, MacOS, Unix, DOS etc., are invited to sign-on to IACT's Declaration! IACT is working for greater freedom of choice in software, for better access to computer-based services & technology, and for open standards, including higher standards of compatibility. To achieve such important goals for all people, IACT will join in anti-monopoly efforts against Micro$oft, while we find positive ways to help consumers & users regardless of their chosen platforms. Join us at... http://pages.cthome.net/iact/
For more information:
Diane Gartner, dgwhiz@earthling.net
IACT Co-ordinator

---
Software Announcements
---
Dotfile Generator 2.2
Date: December 24, 1997
Jesper Pedersen has announced the release of The Dotfile Generator version 2.2. New in this release is:
Added the ipfwadm module for configuring IP Firewalling, Forwarding and Masquerading.
Added the procmail modules for configuring mail filters.
The menu system, from which one select the configuration pages has been rewritten, so it's now much more intuitive.
Some bugs have been fixed.
Made it work with Tcl/Tk 8.0, which is much faster than the older versions of Tcl/Tk
The source is available from the home site of TDG: ftp://ftp.imada.ou.dk/pub/dotfile/dotfile.tar.gz

For more information:
Jesper Pedersen, blackie@imada.ou.dk
---
TeamWave Workplace 2.1
Date: November 27, 1997
TeamWave Software Ltd. today announced the release of version 2.1 of TeamWave Workplace, its popular software that lets teams work together in shared electronic rooms across the Internet. For teams within an organization who are sometimes physically separated yet still need to work closely together, TeamWave Workplace provides an Internet forum where teams collaborate, communicate and share information.
For more information:
info@teamwave.com
http://www.teamwave.com/
---
Red Hat Linux 5.0, HURRICANE
Date: December 1, 1997
Red Hat Software, Inc. has announced the availability of Red Hat Linux release 5.0 for Intel and Alpha computers. This release is a major update to the Red Hat Linux 4.X series. Red Hat Linux is available on their FTP site:
ftp://ftp.redhat.com/pub/redhat/redhat-5.0/
For more information:
http://www.redhat.com/
info@redhat.com
---
Nighthawk
Date: December 19, 1997
Nighthawk is An X-Windows game for Linux (Freeware GPL), based on Andrew Braybrooks C-64 classic- "Paradroid", written by Jason Nunn (JsNO)
Nighthawk 1.0 uploaded onto the following sites:
ftp://ftp.cdrom.com/pub/unixfreeware/incoming (asked to be put into games)
ftp://sunsite.unc.edu/pub/Linux/games/arcade (uploaded to /incoming/Linux)
ftp://ftp.funet.fi (uploaded to /pub/Linux/incoming)
For more information:
Jason Nunn, jsno@dayworld.net.au
---
C++ GUI IDE
Date: November 28, 1997
Simple IDE for: Qt C++. GUI dialog editor, all developed on Linux X11R6 available at: http://qtez.commkey.net/ All distributes of QtEZ include: documentation, a set of tutorials, and many demonstration programs to illustrate features in the environment. I hope QtEZ is well received.
For more information:
Sam Magnuson, zachsman@commkey.net
---
r2d2 - easy but powerful boot-concept
Date: December 3, 1997
r2d2 is a newly developed boot-concept for Unix. In some way r2d2 combines the easeness of the BSD-style scripts (e.g. in Slackware Linux) with the power and flexibility of the traditional SysV scripts (e.g. in RedHat, Debian or S.u.S.E. Linux). r2d2 is available at ftp://sunsite.unc.edu/pub/Linux/system/daemons/init/
For more information:
Winfried Truemper, winni@xpilot.org
---
TkSTEP 8.0p2
Date: December 5, 1997
This is Tk 8.0p2 with some modifications to make it look like N*XTSTEP's interface, plus some new widgets inspirated on N*XTSTEP and the ability to utilize the full power (and more) of the OffiX Drag'n'Drop protocol.
The programming aspects of Tk have not been changed much, so you can run your old Tk apps normally with it, although some options will not do anything (like -relief for scrollbars).
To get TkStep go to http://www.fga.de/~ograf/TkStep.shtml
For more information:
Oliver Graf, ograf@fa.de
Steve Murray, stevem@eng.uts.edu.au
---
t1lib-0.4-beta: A rasterizer for Adobe Type 1 Fonts
Date: December 5, 1997
t1lib is a library for generating character- and string-glyphs from Adobe Type 1 fonts under UNIX. t1lib uses most of the code of the X11 rasterizer donated by IBM to the X11-project. But some disadvantages of the rasterizer being included in X11 have been eliminated.
You can get t1lib by anonymous ftp at: ftp://ftp.neuroinformatik.ruhr-uni-bochum.de/pub/software/t1lib/t1lib-0.4-beta.tar.gz
For more information:
Rainer Menzner, Rainer.Menzner@neuroinformatik.ruhr-uni-bochum.de
---
SGML-Tools 1.0.1
Date: December 5, 1997
After a year of mostly code restructuring and bugfixing, the time finally arrived to let SGML-Tools 1.0 see the light. This means the final demise of Linuxdoc-SGML. Loads and loads of features were added. Most of the code was redone in Perl 5, which adds a lot of flexibility for people who want to override certain parts of the functionality (but at the same time be able to install newer versions); uncountable bugs were fixed (more were introduced, of course :-)), lots of small enhancements, etc.
Visit the SGML-Tools homepage, at http://pobox.com/~cg/sgmltools/, for latest news, pointers to locations, etcetera. Note that I haven't been able to get this stuff on SunSite yet, so you'd better go via the homepage.
For more information:
Cees de Groot, cg@pobox.com
http://pobox.com/~cg/sgmltools/
---
LinuxThreads 0.7 -- POSIX thread library
Date: December 5, 1997
LinuxThreads is a thread library for Linux implementing the POSIX 1003.1c API and based on the "one thread = one process" model. The sources are available through the LinuxThreads home page: http://pauillac.inria.fr/~xleroy/linuxthreads/ or directly on our FTP server: ftp://ftp.inria.fr/INRIA/Projects/cristal/Xavier.Leroy/linuxthreads.tar.gz
For more information:
Xavier Leroy, xavier.leroy@inria.fr
---
TkDesk 1.0b5 released
Date: December 9, 1997
TkDesk 1.0b5, a Desktop and File Manager for UNIX's running X11, has been released. TkDesk is a graphical desktop and file manager for several brands of UNIX (such as Linux) and the X Window System. It offers a very rich set of file operations and services, and gives the user the ability to configure most aspects of TkDesk in a powerful way. The reason for this is the use of Tcl/Tk as the configuration and (for the biggest part of TkDesk) implementation language.
You can get TkDesk from its homepage at: http://people.mainz.netsurf.de/~bolik/tkdesk/
For more information:
Christian Bolik, Christian.Bolik@mainz.netsurf.de
---
MP3Blaster V2.01 -- Mpeg audio player for Linux
Date: December 9, 1997
A new release of MP3Blaster, an Mpeg-layer 1/2 audio player for Linux is available. This player has a smart and intuitive user-interface that allows a user to split up a playlist into sections. An interesting use of this feature is that you can put about 10 of your audio CD's in MP3-format on one CD-ROM and have each section in the playlist represent an album. Then, you can have the player play the songs in every imaginable order you want.
Available at:
ftp://sunsite.unc.edu/pub/Linux/apps/sound/players/mp3blaster-2.0b1.tar.gz
http://www.stack.nl/~brama/src/mp3blaster-2.0b1.tar.gz
For more information:
Bram Avontuur, brama@mud.stack.nl
---
X-CD-Roast 0.96c
Date: December 9, 1997
X-CD-Roast 0.96c, a CD writer package for X, has been released. Really new stuff:
based on Tcl/Tk 8.0
includes cdrecord-1.5 and mkisofs 1.11.1
lots of fixes.
Check out the web page: http://www.fh-muenchen.de/rz/xcdroast/

For more information:
Thomas Niederreiter, p7003ad@sunmail.lrz-muenchen.de
---
ADABAS D Workgroup Edition
Date: December 11, 1997
ADABAS D Workgroup Edition 10.0 for Linux is now available. Visit http://www.IoS-online.de
For more information:
Bjoern Bayard, Bjoern.Bayard@ios-online.de
---
Linbot 0.1 web site management tool
Date: December 12, 1997
Linbot 0.1 is a tool that can examine a web site for broken links, outdated pages, and other useful information. It is based on the commercial LinkBot from TetraNet Software (http://tetranetsoftware.com/) though Linbot will be free. You can get Linbot at http://home1.gte.net/marduk/linbot/index.html
For more information:
Marduk, marduk@gte.net
---
Published in Linux Gazette Issue 24, January 1998
---
---
This page written and maintained by the Editor of Linux Gazette, gazette@linuxgazette.net
Copyright © 1998 Specialized Systems Consultants, Inc.