"Linux Gazette...making Linux just a little more fun!"
---
| | |
| --- | --- |
| | Contents: |
---
News submissions should be sent to gazette@linuxgazette.net in TEXT format. Not HTML, DOC, RTF, etc., please. Instead of a press release, please send a two-paragraph summary of why Linux users would be interested in your product or service, along with a link to your web site.
---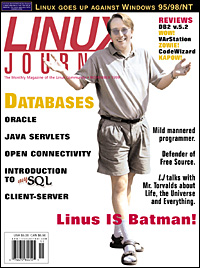 November 1999 Linux Journal
The November issue of Linux Journal will be hitting the newsstands in mid-October. This issue focuses on databases, and includes an interview with Linus, the "mild-mannered programmer, defender of free source, and all-around nice guy", as well as pictures of Linux's creator.
Linux Journal now has articles that appear "Strictly On-Line". Check out the Table of Contents at http://www.linuxjournal.com/issue67/index.html for articles in this issue as well as links to the on-line articles. To subscribe to Linux Journal, go to http://www.linuxjournal.com/subscribe/ljsubsorder.html.
For Subcribers Only: Linux Journal archives are now available on-line at http://interactive.linuxjournal.com/
Flash!

Can't find that April 1996 Linux Journal? Someone borrowed the September 1998 copy?

Now you can have it all! All of Linux Journal (issues 1-56; 1994-1998) and all of Linux Gazette (issues 1-45; 1995-1998) on one archival CD.

Ordering info in the next Gazette.
---
Distro News
This is a new section featuring news about Linux distributions.
---
Red Hat announces Red Hat Linux 6.1
DURHAM, N.C.--October 4, 1999--Red Hat, Inc. today announced the release of a suite of Official Red Hat Linux 6.1 products. The latest release incorporates easy installation, software update information and access, and improved system management capabilities. Users can move quickly through installation with graphic-based directions, choosing from GNOME, KDE, server or custom interface settings, with seamless integration of software RAID configurations to safeguard critical data and application availability. Additionally, the PXE 2.0 technology (part of the Wired for Management Baseline 2.0) enables Red Hat Linux 6.1 installations to be done across the network, with no need for local media.
Red Hat Linux 6.1 also provides customers with fast access to the latest software technology from Red Hat through the Red Hat Update Agent, an online customer service application for retrieval and management of software updates.
---
Linux-Mandrake "Cooker" (development version)
Linux Mandrake is proud to announce the availability of its new development version code-named "Cooker". What sets the distribution apart from previous versions is that Linux Mandrake has now adopted a new open style of development that allows real-time updating of the distribution based on the contribution of both it's dedicated staff and the user base.
Linux Mandrake Cooker is aimed at the following audiences:
Users who want to stay on the cutting edge with a distribution that is updated daily.
Users who want an easier way to upgrade their existing software.
Developers who want to contribute to the development and direction of Linux Mandrake.
Cooker is now available online at: www.linux-mandrake.com/cooker or on CD.
---
Storm Linux Beta Released
Vancouver, Canada -- October 25, 1999 -- Stormix Technologies announces the official beta version of Storm Linux. The final release is scheduled for November 1999.
"What we learned from the alpha," says Bruce Byfield, Product Manager for Stormix Technologies, "is that users want a Linux install that's easy but not dumbed down.
"For example, in the alpha, users were forced to install the Linux Loader and could only do so on the master boot record. However, alpha testers told us very clearly that they wanted more flexibility. So, in the beta, we've given it to them. At the same time, new users can simply accept the defaults and quickly get a workable system. We've tried to balance flexibility and ease of use all down the line."
Another major feature of the Storm Linux is the Storm Hardware System. SHS automatically detects PCI devices, including video and network cards, SCSI devices, and USB bridges.
"The information collected during alpha testing," Lindsay says, "has greatly extended our hardware compatibility. As a result, we'll be putting our database on the web, so that users worldwide can request and receive support for their cards. Our goal is to make Storm Linux the most complete Linux hardware solution available."
Other features of the beta include GUI modules for networking, dialup, and adding users. "These modules," Byfield explains, "are simply the first glimpse of what Stormix is planning. The final release will include other modules that weren't ready for the beta."
Copies of the beta are being mailed to registered testers. Copies can also be downloaded from the Stormix web site.
Founded in February 1999, Stormix Technologies is a Linux development Canada based in Vancouver, Canada. Its flagship product is Storm Linux, an enhancement of the Debian GNU/Linux distribution.
---
Mandrake/Panoramix
Panoramix is a new installation procedure, allowing easy installation of Linux-Mandrake. It has just been integrated in Cooker, our experimental distribution. Panoramix is entirely written in Perl which is interface independent, offering contributors an easy and flexible way to contribute. This beta version features the integration of Diskdrake, a complete hard-drive partitioning tool, that offers users a simple graphic tool for completing the painful partitioning phase while installing Linux.
---
Debian computers available in UK
Space-Time Systems is currently offering three PC models with Debian 2.1 (Slink) pre-installed. STS actively supports Free Software and the development of GNU/Linux by donating 3% of the retail cost of each system sold, split equally between the Free Software Foundation and Software in the Public Interest, Inc.
All systems are supplied with A Beginner's Guide to Using GNU/Linux help-sheet, GNU/Linux software on CD's, plus a boot floppy. All GNU/Linux systems are ready for use, with the X server and a Graphical User Interface (GUI) already configured. www.spacetimesystems.dial.pipex.com/.
---
Red Hat Expands Board of Directors, Strengthens Development Group
Durham, N.C.--October 12, 1999--Red Hat, Inc., today announced that Kevin Harvey, General Partner of Benchmark, has joined the Red Hat Board of Directors and Walter McCormack has joined the company as head of Corporate Development.
Harvey brings more than 15 years of emerging technology company experience and vast knowledge of the computer industry to Red Hat. McCormack brings a strong background in investing, advisory and financing services to Red Hat.
---
Other distribution news
Caldera
Debian
Expert Linux
SuperAnt's Expert Linux CD has a live Linux filesystem that can be used without hard disks. Includes kernel 2.2.12 and KDE. It can also be used as a rescue disk. Boot Linux from the CD if your BIOS supports it, or from the MS-DOS prompt.
Peanut Linux
Red Hat
Intel will bundle RH with Intel's server platforms the company markets through its recently created Internet Service Provider program.
Comaq to provide call center support for enterprise users worldwide of the Official Red Hat Linux OS.
Magic Software Enterprise Server 8.3 (e-commerce and business software) included in Red Hat 6.1.
ORBit Software's backup solution included in Red Hat 6.1 .
SuSE
SuSE and Siemens AG (Munich) have completed a Linux extension allowing the use of up to four GByte of memory on Intel-based servers. The patch has been integrated into the Linux 2.3.15 developer's kernel.
TurboLinux
---
News in General
---
Linus sees a future full of free operating systems
CNet article in which Our Hero discusses what he thinks Open Source will -- and will not -- do for the computer industry. He discusses the less- successful-than-expected Mozilla project, and disparages Sun Microsystems' use of the term "open".
Thanks to The Linux Bits #20 for bringing this article to our attention.
---
Upcoming conferences & events

Alternative Linux 1999
November 1-3, 1999
Montreal, Quebec, Canada
www.alternativelinux.com/ (French)
www.alternativelinux.com/en (English)

USENIX LISA -- The Systems Administration Conference
November 7-12, 1999
Seattle, WA
www.usenix.org/events/lisa99

COMDEX Fall /
Linux Business Expo
November 15-19, 1999
Las Vegas, NV
www.comdex.com/comdex/owa/event_home?v_event_id=289

The Bazaar: "Where free and open-source software meet the real world".
Presented by EarthWeb.
December 14-16, 1999
New York, NY
www.thebazaar.org

SANS 1999 Workshop On Securing Linux. The SANS Institute is a
cooperative education and research organization.
December 15-16, 1999
San Francisco, CA
www.sans.org

---
Magic software has learned a lesson about penguins
Magic Software announced that it has made a $10,000 donation to the Wildlife Conservation Society for the preservation of penguins. In addition, the Company stated it will no longer use live penguins to promote its Linux products. Magic created quite a "flap" recently when it usedtwo live penguins at the LinuxWorld Expo in San Jose to introduce its new business-to-business e-commerce solution, Magic eMerchant for Linux, for this rapidly growing operating system whose symbol is a penguin.
The controversy started last August when Magic brought two live trained penguins, named Jeffrey and Lucinda, to the San Jose Convention Center to open the trade show floor, as well as introduce each of the Companys hourly demonstrations of its new eMerchant product. For five minutes at the start of every hour, the birds trainers would allow people around the booth to take pictures of one of the birds (the birds alternated times in the booth), as well as pet the bird. This "ruffled the feathers" of some trade show attendees who later called PETA (People for the Ethical Treatment of Animals) to voice their concerns.
---
Netwinder news
OTTAWA, ONTARIO - September 13, 1999 - Rebel.com Inc. announced that it has entered into a technology and distribution agreement with KASAN Electronics Corp., a leading manufacturer and distributor of PC peripherals and electronics. The agreement provides KASAN with exclusive rights to market and distribute the NetWinder OfficeServer throughout the Pacific Rim.
Due to the increased number of Internet users, the Linux thin-server market is expected to grow rapidly in Korea. The Korean government supports the development of Linux OS-based servers, resulting in Linux-based servers being a very affordable alternative for both business (SOHO) and personal usage. It is also estimated that there will be over 100,000 Web hosting operations in Korea by year-end.
"We are very pleased to be able to handle sales and marketing for the NetWinder in regions like China and Japan," said Jay Park, director of marketing and development for KASAN Electronics. "The thin-server market is one of the most rapidly growing in the network market, we are confident that by adding our expertise and services to the NetWinder we will achieve World leader status within three years."
---
Tri-Centrury Dynamic Development Objects for Java
Wideman, Ark. -- Tri-Century Resource Group, Inc. (TCRGI) announced the immediate availability of Dynamic Data Objects for Java (DDOtm), a set of Java development tools that allow adjustments to any DDO-based enterprise application with minimum intrusion and testing. A free 30-day DDO demo is available at www.tri-century.com.
Development and testing took place on a Red Hat 5.2 system using Java 1.1. and Java 1.2 from www.blackdown.org.
---
Cobalt Networks Announces RaQ 3i Server Appliance
Cobalt Networks, a developer of server appliances, has introduced its third-generation server appliance, the RaQ 3i, today at ISPCON. The RaQ 3i expands Cobalt's RaQ product line by providing the ideal server appliance for high-traffic Web sites, e-commerce, and application hosting. Designed with ISPs and small to mid-sized businesses in mind, the RaQ 3i further solidifies Cobalt's reputation for providing server appliances that offer powerful performance, great return on investment and a low total cost of ownership.

"The new Cobalt RaQ 3i delivers a compelling server appliance platform for Intershop commerce products," said Ed Callan, Vice President of Marketing at Intershop. "Cobalt's customers will now have access to powerful e-commerce solutions based on Intershop's industry leading sell-side e-commerce solutions and the cost-effective, easy-to-manage, and scalable RaQ 3i. The RaQ 3i with Intershop Hosting and Merchant uniquely deliver e-commerce for ISPs and businesses." Cobalt designed the RaQ 3i with an open source design and extensible architecture making it easy to integrate, deploy, and support Internet and network-based applications. Cobalt server appliances are pre-configured with the Linux operating system and provide the core web publishing, email, and file transfer services upon which ISPs and developers can build their solutions. The Cobalt RaQ 3i significantly extends the range of available applications for the Cobalt RaQ product line.
---
Cobalt Qube/RaQ get Knox Arkeia backup
Burlingame, Calif. - September 1, 1999 - Knox Software and Cobalt Networks announced today the availability of Arkeia software for Cobalt RaQ and Qube family of products. Arkeia provides a comprehensive solution for ISPs and corporations to protect data. Its unique transaction engine allows multiple backups and restores to be performed simultaneously with total reliability.
Arkeia provides incremental and full backups, scheduled or on demand, and preserves directory structure, registry, symbolic links and special attributes. Arkeia utilizes an exclusive multi-flow technology to deliver speeds that are 200 to 300 percent faster than rival software packages. Its Java interface enables the system administrator to manage multiple remote backup servers through the Internet as if they were local backups.
Pricing for Arkeia 4.2 starts at under $600. A configuration protecting 2 - type 1 computers (UNIX, NT Server), 5 - type 2 computers (Linux, Win 95/98), and utilizing a single tape drive costs less than $1,000. Cobalt RaQ and Qube customers can download the Arkeia software and purchase the package online at www.arkeia.com.
---
Cobalt partners with Gateway
SAN DIEGO--Oct. 12, 1999--Gateway Inc., and Cobalt Networks Inc., today announced an agreement under which Cobalt will supply server appliance technologies that enable Gateway to expand its capabilities to provide small-to-medium sized organizations with affordable and turnkey technology solutions designed to leverage the Internet.
---
Cobalt Unveils Management Tool
Mountain View, Calif., October 18, 1999-Cobalt Networks, Inc., a developer of server appliances, today introduced the Cobalt Management Appliance. This system is specifically designed to allow system administrators to monitor and perform management tasks on large installations of Cobalt RaQ server appliances from a single management console.
By simply using Cobalt's proprietary user interface, system administrators can easily and securely apply software packages to a list of selected RaQs, reboot multiple RaQs remotely, change settings for an entire RaQ server farm, and activate and deactivate FTP, telnet, SNMP, and DNS.
---
LinuxCare expands Japanese operation
Seeking to widen its presence in the already-expanding Japanese Linux market, Linuxcare, Inc. announced Friday that it has entered into a certification, service and support-based strategic partnership with Inter Space Planning Corporation (ISP)...
www.ecommercetimes.com/news/articles/991004-3.shtml
---
National Semiconductor to use Linux in set-top boxes
Hong Kong - September 27, 1999 - National Semiconductor Corporation has appointed INFOMATEC AG / IGEL Technology Labs to develop Linux-based firmware to port to National Semiconductor's market-leading set-top box and thin-client platforms.
---
VA files for IPO
VA Linux Systems has filed for an initial public offering (IPO) with the Securities and Exchange Commission (SEC). This is the second major Linux-related public stock move, after Red Hat. The option also mentions Andover.net's and LinuxOne's recent IPO filing.
www.ecommercetimes.com/news/articles/991011-4.shtml
---
Ziatech news
Ziatech Corporation is combining its CompactNET(tm) multiprocessing technology with the recently announced LinuxPCI 1000 Development System, speeding the implementation of Linux-based, multiprocessing CompactPCI systems. The CompactNET version of the LinuxPCI 1000 comes with MontaVista Software's Hard Hat(tm) Linux, an embedded version of Linux. For more information, visit:

CompactNET open source web site This web site allows users of Ziatech's CompactNET multiprocessing technology to download the open source code drivers for the Linux operating system. The CompactNET source code is being released as open source to foster the standard interoperability of CompactPCI multi-computing solutions from different vendors.
---
SCO invests in LinuxMall
The Santa Cruz Operation has become the largest external investor in LinuxMall.com, one of the 200 busiest sites on the Internet. LinuxMall CEO Mark Bolzern is quick to add that the company will continue its vendor- neutral tradition. The investment will enable LinuxMall to "take LinuxMall.com to the next level and meet the needs of the growing Linux community."...

www.ecommercetimes.com/news/articles/991014-7.shtml
---
Loki Hack Winners Announced
Atlanta, GA. -- October 15, 1999 Winners of the first annual Loki Hack were announced in an afternoon press conference at the Atlanta Linux Showcase. During the Hack, enthusiastic and talented hackers from across the country and around the world had 48 hours in a secure setting to make alterations to the Linux source code for Activision's popular strategy game Civilization: Call to Power. The hackers had full reign to add features, alter logic, and implement additional library support.

"This is the closest we could get to Open Source with our commercial products," said Scott Draeker, Loki president and founder. "The world can't see the source, but the contestants did. And all the hacks, mods, and changes will be posted in binary form for free download from our website next week. This was our chance to show the gaming world what the Open Source community can accomplish, and the results have been incredible."

At the press conference Draeker awarded first prize to Christopher Yeoh, a developer from Denver, Colorado. Yeoh completed several modifications to Civilization: Call to Power, including the addition of extra units such as land carriers and stealth carriers. Yeoh also enhanced the Spy unit by allowing it to infiltrate an enemy city. If successful, the Spy is destroyed, but the player can view the infiltrated city's statistics until payment is received from the enemy.

First prize is a StartX MP Workstation from VA Linux Systems. Runners-up will receive their choice of Gamer-X sound cards from Creative Labs, Inc., 3950U2 Ultra2 Dual Channel SCSI cards from Adaptec, Inc., and Millennium G400 video cards from Matrox Graphics, Inc. All contestants completed at least one hack and will each receive a prize.
---
Linux Getting 'Pervasive'
Pervasive Software, Inc. has moved its SQL 2000 server for developing e-commerce applications into the open-source arena by making it available to developers working with the Linux environment...

www.ecommercetimes.com/news/articles/991018-4.shtml
---
MacMillan Publishing + SecurityPortal.com = more Linux security
MacMillan Publishing USA has entered into a strategic alliance with SecurityPortal.com to bring online security technologies to users of the Linux operating system (OS)...

www.ecommercetimes.com/news/articles/991022-7.shtml
---
Intel Advances Linux Support
Intel Corp. enables online professional users to bring Gigabit Ethernet performance to their Linux-based Internet operations, and is working with the open-source community to foster Internet-enabling product development...

http://www.ecommercetimes.com/news/articles/991025-5.shtml
---
VMware Prepackaged
WINDOWS NT USERS NOW HAVE QUICK AND EASY WAY TO ACCESS LINUX

Palo Alto, Calif. -- Windows NT users interested in using Linux now have a quick, easy and painless way to do so. VMware , the leading provider of virtual machine applications for PCs, announced today that it has partnered with leading Linux operating system vendors Caldera, SuSE and TurboLinux to make available their versions of the Linux operating system to customers of VMware.

VMware is a revolutionary new application that enables personal computer users to run one or more protected sessions concurrently using one or more operating systems on a single machine. This gives users the flexibility to run alternate operating systems and eliminates the fear of system or netw ork crashes, security breaches or virus attacks while doing so.

Under these initial agreements with Caldera, SuSE and TurboLinux, VMware for Windows NT and Windows 2000 will come with pre-installed evaluation copie s of these companies92 versions of Linux. VMware is currently in discussions with other Linux suppliers to expand Windows NT users92 options even fur ther.
---
Linux Links
www.LinuxFool.com is a support and discussion portal for Linux users. It is an official mirror of the Linux Documentation Project.

Linux in Algeria (French-language site)

eExams offers skills testing via the web for companies seeking to screen prospective employees. A Linux System Administrator exam is included among its many IT and non-IT offerings.

CNet article about Transmeta taking aim at Intel. From The Linux Bits #20.

The Iozone filesystem benchmark has a new version.
---
Software Announcements
---
CUPS for Linux
The first production release of the Common UNIX Printing System ("CUPS") is now available for download. The license is GPL.

The Common UNIX Printing System provides a portable printing layer for UNIX operating systems. It has been developed by Easy Software Products to promote a standard printing solution for all UNIX vendors and users. CUPS provides the System V and Berkeley command-line interfaces.

CUPS uses the Internet Printing Protocol (IETF-IPP) as the basis for managing print jobs and queues. The Line Printer Daemon (LPD, RFC1179), Server Message Block (SMB), and AppSocket protocols are also supported with reduced functionality.

CUPS adds network printer browsing and PostScript Printer Description ("PPD")-based printing options to support real world applications under UNIX.

CUPS also includes a customized version of GNU GhostScript (currently based off GNU GhostScript 4.03) and an image file RIP that can be used to support non-PostScript printers.

Sample drivers are provided for HP DeskJet and LaserJet printers. Drivers for over 1600 printers are available in our ESP Print Pro software.
---
Cygnus Announcements
SUNNYVALE, Calif., October 12, 1999 -- Cygnus Solutions, the leader in open source software, today announced the commercial availability of Cygwin, a UNIX/Linux shell environment and portability layer enabling delivery of open source projects to Windows. Cygwin provides corporate IT and software developers a solution for integrating a heterogeneous environment of Windows and UNIX-based systems. In addition, developers can use Cygwin to quickly migrate applications from UNIX to Windows.

SUNNYVALE, Calif., October 12, 1999 Cygnus Solutions, and Integrated Computer Solutions (ICS) today announced a strategic agreement to integrate ICS Builder Xcessory PRO (BX PRO) with Cygnus Code Fusion9 Integrated Development Environment (IDE). This agreement provides Linux software developers with the first commercial IDE with graphical user interface (GUI) builder development capabilities.
---
Running Windows NT applications on Linux
San Jose, CA. (October 18, 1999) - In a move to dramatically accelerate the expansion of business-critical applications available on the Linux platform, Mainsoft Corporation, the leader in cross-platform solutions for the enterprise, today announced it is developing a version of MainWin for the Linux environment. MainWin is Mainsoft's Windows platform for UNIX operating systems. MainWin allows software developers to re-host Windows NT applications on UNIX leveraging one single source code for both Windows and UNIX systems.

The same MainWin technology that has been available for UNIX platforms will be incorporated into the Linux product; to date, more than one million MainWin licenses have been installed worldwide. As an extension of Mainsoft's product offering, the MainWin for Linux strategy will initially focus on the Red Hat Linux operating system with others likely to follow.

In the coming weeks, a demo will be available for download on Mainsoft's Web site at www.mainsoft.com and the commercial release is scheduled for end of Q1 2000.
---
Netscape gets e-commerce security boost
Article about LinuxPPC's 128-bit encryption for Netscape 4.7 on the Power PC, Netscape's own efforts to boost encryption security, and the Clinton administration's proposal to partly relax US crypto-export restrictions.

www.ecommercetimes.com/news/articles/991021-2.shtml
---
This page written and maintained by the Editor of the Linux Gazette, gazette@linuxgazette.net
Copyright © 1999, Specialized Systems Consultants, Inc.
Published in Issue 47 of Linux Gazette, November 1999
---
---