"Linux Gazette...making Linux just a little more fun!"
---
| | |
| --- | --- |
| | Contents: |
Selected and formatted by Michael Conry
Submitters, send your News Bytes items in PLAIN TEXT format. Other formats may be rejected without reading. You have been warned! A one- or two-paragraph summary plus URL gets you a better announcement than an entire press release. Submit items to gazette@linuxgazette.net
---
June 2002 Linux Journal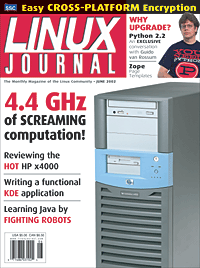 The June issue of Linux Journal is on newsstands now. This issue focuses on program development. Click here to view the table of contents, or here to subscribe.

All articles through December 2001 are available for public reading at http://www.linuxjournal.com/magazine.php. Recent articles are available on-line for subscribers only at http://interactive.linuxjournal.com/.

---
Legislation and More Legislation
---
Elcomsoft DMCA Case
A recent attempt to prevent the Elcomsoft case (archive: Sklyarov/Elcomsoft DMCA case) going to court has failed. The challenge was based on two constitutional arguments:
That the DMCA is unconstitutionally vague as applied to Elcomsoft, violating the Due Process Clause of the Fifth Amendment (i.e. it is too vague for people to know how not to violate it).
That the DMCA violates the First Amendment in various ways: it is an indiscriminate content-based restriction on speech, insufficiently tailored to qualify as serving a compelling government interest; it infringes upon the First Amendment rights of third parties to engage in fair use; it is too vague in describing what speech it prohibits and thereby chills free expression.
These arguments were not accepted by the judge, whose ruling may be viewed online in PDF format. As was pointed out on Slashdot, the judge accepted that computer code (including object code) is a form of expression protected under the first amendment. However, he reached the conclusion that the DMCA was content-neutral (being targeted at the purpose of the software, not its content) and thus did not impair the right to free expression.
...to the extent that the DMCA targets computer code, Congress sought to ban the code not because of what the code says, but rather because of what the code does.
And since he judged the regulation to "further a substantial government interest", the free speech argument was lost. With regard to fair use, the judge ruled that no fair use was prohibited or eliminated by the DMCA. Some uses might be more difficult than they would be without the DMCA, but they were still legal and possible. There were several other points dealt with in the 33 page ruling, including restriction of access to public-domain works, each of which was rejected by the judge.

The Electronic Frontier Foundation have released a press release giving information on the ruling. Additionally, this story has been covered on Wired.
---
More DMCA
Maybe we should call this section "DMCA and More DMCA". In another DMCA setback, a federal appeals court rejected the latest 2600 Magazine challenge to the DMCA. The Second Circuit Court of Appeals denied 2600 Magazine's request for review of a November 2001 appeals court decision upholding an injunction made against the web publisher by the MPAA (Motion Picture Association of America). The injunction bars 2600 Magazine from publishing or linking to DeCSS software that decodes DVDs. The Electronic Frontier Foundation and 2600 must now decide whether to attempt an appeal of the ruling to the U.S. Supreme Court.
In a related case, EFF and the First Amendment Project have asked the California Supreme Court to uphold a lower court decision to permit publication of DeCSS source code. The DVD CCA (Copy Control Association) are attempting to get the court to overturn the decision and block publication of the code.
EFF have a large amount of information on these and related cases.
---
Intriguingly, NewsForge ran a story that Reuters, Yahoo.com, CNN.com, and dozens of other publications could now be guilty of DMCA violations. What all of these publications have in common is that they have described the process whereby Sony's "copy-proof" protection for CDs can be defeated with a magic marker. I won't hold my breath waiting for the court cases to start, but it does show how easy it is to run foul of this law.
---
Cox Speaks Out
Alan Cox, who has been a staunch critic of US laws such as the DMCA has attempted to draw the attention of Europeans to the European Union Copyright Directive which could yet turn out to be even more restrictive than the DMCA. Cox was speaking at a lecture on the EUCD, audio from which is available online. Alan's views are further expressed in a recent Slashdot interview, where he discusses laws and Linux.
---
Another Cox. Also on Slashdot is a report that film maker Alex Cox (writer/director of Repo Man and Sid And Nancy) has written in The Guardian that the movie industry's real pirates are the Hollywood studios and the MPAA who have forced out independents.
---
Open Source for Peru
Dr. Edgar David Villanueva Nunez has written a careful and rational reply to the input he received from Microsoft on proposals to limit the Peruvian government to using only free software. He writes that cost is not the main principle behind this proposal, but rather free access to public information by the citizen, permanence of public data, and the security of the state and its citizens. Re the last one, he writes, "it is indispensable to be able to rely on systems without elements which allow control from a distance or the undesired transmission of information to third parties." Only open-source software allows the state and independent experts to verify that this is the case.

A set of links on this story (including links to original Spanish versions) are available at pimientolinux.com/peru2ms/, including an interview with Dr. Villanueva by Linux Today.
---
Plugging the "Analog Hole"
EFF have issued an advisory analysing some noises coming from the MPAA on the topic of content protection. It would appear, that the MPAA plans to totally rewrite the rule book with regards to technology. Their report calls for no less than the regulation of analog-to-digital converters (ADCs), an incredibly generic and commonplace electronic component found in a wide range of scientific, medical and entertainment devices. The MPAA proposes that every ADC be controlled by a "cop-chip" that will shut down the device if it is asked to assist in converting copyrighted material, thus "plugging the analog hole." The EFF report on this subject has more details on this mind-bending story.
---
Linux Links
Karlheinz Langguth has written a detailed description on how to use Linux as a server for small office solutions.
LinuxDevices survey of cool embedded Linux systems.
Some tips on Secure Programming in PHP at Zend.
A couple of links from Linux Weekly News:
Some links featured on Linux Today over the past month:
Some stories from NewsForge which might interest you:
Some interesting articles from the O'Reilly network:
A few Linux Journal web articles:
Some links from The Register
Slashdot links
---
Upcoming conferences and events
Listings courtesy Linux Journal. See LJ's Events page for the latest goings-on.
---

Embedded Systems Conference (CMP)

June 3-6, 2002
Chicago, IL
http://www.esconline.com/chicago/


---

USENIX Annual (USENIX)

June 9-14, 2002
Monterey, CA
http://www.usenix.org/events/usenix02/


---

PC Expo (CMP)

June 25-27, 2002
New York, NY
http://www.techxny.com/


---

European Python and Zope Conference 2002

June 26-28, 2002
Charleroi, Belgium
http://www.europython.com/


---

O'Reilly Open Source Convention (O'Reilly)

July 22-26, 2002
San Diego, CA
http://conferences.oreilly.com/


---

USENIX Securty Symposium (USENIX)

August 5-9, 2002
San Francisco, CA
http://www.usenix.org/events/sec02/


---

LinuxWorld Conference & Expo (IDG)

August 12-15, 2002
San Francisco, CA
http://www.linuxworldexpo.com


---

LinuxWorld Conference & Expo Australia (IDG)

August 14 - 16, 2002
Australia
http://www.idgexpoasia.com/


---

Communications Design Conference (CMP)

September 23-26, 2002
San Jose, California
http://www.commdesignconference.com/


---

Software Development Conference & Expo, East (CMP)

November 18-22, 2002
Boston, MA
http://www.sdexpo.com/


---
---
News in General
---
Free LinuxTag Tickets
NewsForge reported that free admission passes to the LinuxTag event are available for download at the LinuxTag site. Not only are the passes free in the monetary sense, but they are also free in the free speech sense since the code for creating the tickets is freely available under the GPL.
---
Reuters Supports Adoption of Linux in Financial Services Industry Using Intel Based Servers
Reuters is to work with HP, Intel and Red Hat to offer its market data system on Intel-based servers with Linux. Naturally enough, Reuters have a report on this development. Linux Journal also has a report on this story.
---
Embedded Linux Journal
Embedded Linux Journal has ceased publication. The current slump in the tech economy makes for not enough advertisers to support a standalone publication. Instead, there will be an embedded section embedded in Linux Journal (pun intended). The magazine's website eljonline.com, will continue to feature new articles. Perhaps ELJ will return when the economy improves.
---
Distro News
---
United Linux
United Linux is a new distribution sponsored jointly by Caldera, Conectiva, SuSE and Turbolinux. The goal is to eliminate inter-distribution incompatibilities by providing a common reference implementation--like the Linux Standards Base (which it's based on), only this is not just a specification but a full-blown product.

Each vendor will continue to market its own distribution with custom features, but these features will be reimplemented as add-ons over this common base, rather than using their individuall codebases. Red Hat, Turbolinux and Red Flag are not participants in this consortium, but the group has invited them and any other distributions to join it. It is interesting to note, however, that the initial four partners have non-overlapping primary markets. Caldera works mainly in US vertical-integration deployments, SuSE is based in Germany, Conectiva's niche is Latin America, and Turbolinux has a strong presence in Asia. Although they compete directly, this regionalization of primary markets may have been the catalyst to allow them to work together.

UnitedLinux plans to have a 1.0 release by the end of the year. It will be available commercially and also for free download. The schedule and (undetailed) specification is here. The installer will support eleven European and Asian languages including Hungarian.

A detailed specification whitepaper is here (PDF, 26 pages). In addition to the usual standards (FHS, LSBm LI18NUX), it also specifically supports XML, SOAP and WBEM (Web-Based Enterprise Management). The installer can operate unattended following an XML configuration, or clone an interactive configuration. The software will be what's required for a minimum full-featured system; e.g., kdebase 3.0 and Konqueror, but not the rest of KDE. Apache, CUPS, Postgres and vim will be included, along with packages to support High Availability clustering, Virtual Private Networks, etc. Filesystems: ext2, ext3, ReiserFS, JFS, and a number of others.
---
ALT Linux
Developer's URL: ALT Linux, a Russian distribution of Linux has announced the release of ALT Linux Master 2.0. This release spans 6 CD's and includes a wide range of applications. Manuals are included covering installation, system administration, general use and OpenOffice. Price is 1300.00 rub (~ 40 $).
---
Debian
Hewlett-Packard offers pre-installed Debian as an option on its Blade Servers. A blade is a computer-on-a-card that can coexist with other blades in a single computer case. As shipped, one blade has Debian preinstalled. The other blades have no OS, but you can use HP's SystemImager software to copy the Debian image onto the other blades.
---
Linux Magazine have an article on The Importance of Being Debian which profiles the history of the distribution.
---
---
Slackware
NewsForge picked up the story that Slackware 8.1 RC1 has been released.
---
SuSE
The Register has reviewed SuSE 8.0, as has DesktopLinux. Opinions vary.
---
SuSE Linux, has announced the shipment of the SuSE Linux Enterprise Server 7 for 64-bit IBM eServer zSeries. One of the first applications to make use of this new 64-bit environment will be the mySAP.com e-business platform on Linux for the IBM eServer zSeries, which will be made available for SuSE Linux Enterprise Server 7 for zSeries by the end of May 2002.
---
Mandrake
The Register has taken a look at Mandrake 8.2. Not entirely happy.
---
Software and Product News
---
GnuPG
Version 1.0.7 of GnuPG has been released. The list of changes is here and it is available for download.
---
Mozilla
As Mozilla edges closer to its imminent version 1.0 release, Mozilla 1.0 release candidate 3 has recently been set loose.
---
Arkeia Signs Strategic Partnership to Enter OpenNAS Market
Arkeia Corp., has announced a partnership with Consensys Ltd., the European supplier of Raidzone OpenNAS terabyte fileservers for enterprise network configurations. The two firms concluded a strategic alliance to integrate Arkeia's solution into the OpenNAS product line in Europe. Arkeia is a network backup solution used worldwide by companies to protect their data. Raidzone produces a line of internal, external and rack mount disk arrays and OpenNAS servers.
---
Command Prompt Offers VAR Program for Mammoth
Command Prompt, Inc. has announced a VAR/OEM program to allow consultants to provide commercial and support PostgreSQL services to their customers. The program is designed for any consultant, or consultant firm to provide an array of supported services around the Command Prompt, Inc. suite of PostgreSQL products. The program offers, discounts on not only Command Prompt's commercial product lines but also on support services, including annual managed contracts, managed database hosting, and senior programming services. Mammoth PostgreSQL from Command Prompt, Inc. is an SQL-compatible Object Relational Database Management System, designed for small to medium size businesses.
---
IBM Launches eServer Integrated Platform for e-business
IBM has announced the launch of its new eServer Integrated Platform for e-business. The platform will be coupled with IBM's Start Now marketing and enablement program providing Business Partners with marketing materials, sales tools, and detailed deployment instructions needed to effectively deliver this offering to SMB customers. This solution includes the hardware and software Business Partners need to rapidly build and deploy a wide variety of Linux-based solutions.
---
IBM has also announced the launch of its new volume management technology for Linux. Enterprise Volume Management System, which has its home at SourceForge, is designed to streamline and enhance storage management capabilities. The new technology is the result of extensive collaboration among developers in the Linux open community and the IBM Linux Technology Centre.
---
Trustix and LinuxIT Partner in the UK
Trustix and LinuxIT have announced a partnership to provide end to end support and services to UK partners and customers of Trustix Linux Solutions - a range of e-business infrastructure solutions aimed at small and medium sized enterprises.
---
Opera 6.01 for Linux Released
Opera 6.01 for Linux has been released. Version 6.01 fixes a security issue in the recently released Opera 6.0. Opera 6.01 for Linux is available for download.
---
PerlMx Spam Solution
PerlMx 2.0 is an email security and filtering system for sendmail that operates at the gateway and is reportedly "over 98% effective in identifying spam". It has virus, spam, and corporate communications compliance filters, all written in Perl that work out of the box and are easily extensible. PerlMx supports most corporate UNIX platforms and is priced per CPU, removing the per user cost of spam.
---
VariCAD
VariCAD has announced the release of VariCAD 8.2.0.1 Update for both Windows and Linux operating systems. VariCad is a compact mechanical CAD package suitable for mechanical engineering designers who need a way to solve numerous tasks within the area of general mechanical engineering. A free trial version is available for download at http://www.varicad.com
---
Copyright © 2002, Michael Conry and the Editors of Linux Gazette.
Copying license http://www.linuxgazette.net/copying.html
Published in Issue 79 of Linux Gazette, June 2002