"Linux Gazette...making Linux just a little more fun!"
---
| | |
| --- | --- |
| | Contents: |
---
News in General
---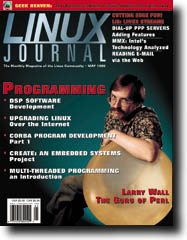 May 1999 Linux Journal
The May issue of Linux Journal will be hitting the newsstands April 12. This issue focuses on Programming with an interview with Larry Wall, the guru of Perl. Linux Journal now has articles that appear "Strictly On-Line". Check out the Table of Contents at http://www.linuxjournal.com/issue61/index.html for articles in this issue as well as links to the on-line articles. To subscribe to Linux Journal, go to http://www.linuxjournal.com/ljsubsorder.html.
---
Linux Without Borders
Date: Thu, 4 Mar 1999 08:48:20 -0500 (EST)
Linux Without Borders is an E-list dedicated to discussion and implementation of the vision that in countries whose citizens are not yet rich enough to own Personal Computers(PCs), computers must be *shared*; and that the way to enable sharing while preserving individual privacy is to install Linux, a multi-user, multi-tasking operating system, on PCs owned cooperatively, or by businesses.
This will enable citizens to establish their own accounts on a commonly owned, or rented, computer, where they can do all the things that citizens of wealthier countries can do: write, do accounts, and -- perhaps most important -- use "their" computer to communicate with other people, in their own country and throughout the world.
To subscribe, send E-mail to: Majordomo@tux.org with the following line in the body of the message:
 
subscribe linux-without-borders

For more information:
Alan McConnell, alan17@his.com
---
Tech Talk
The Chicago Tech Talk radio show, "The Linux Show", will be celebrating UNIX's 30th birthday with a special show on April 6 at 8PM CST. Host Jeff Gearhart will be interviewing Peter Salus. Listen in on-line at http://www.ttalk.com/shows/thelinuxshow/thelinuxshow.shtml.
---
Silicon Graphics Positions Available
Date: Fri, 26 Mar 1999 16:37:20 -0800
Silicon Graphics, Inc. is a leading supplier of visual computing and high-performance systems. The company offers the broadest range of products in the industry - from low-end desktop workstations to servers and high-end supercomputers. Silicon Graphics and its subsidiaries have offices throughout the world and corporate headquarters in Mountain View, California.
Silicon Graphics has several key teams doing Linux development here in the bay area, and looking for experienced engineers to join.
The Linux Kernel Development team is defining and developing operating systems for SGI open source platforms, evolving the Linux technology to address SGI's key markets.
The Linux Platform Development team is putting Linux on our next-generation scalable multiprocessor servers. This work involves the Intel IA64 processor, and high performance scalable I/O subsystems.
The Storage Team will be taking the best File System SGI has to offer and moving that to the Linux community. They will also be moving our clustered File System technology based on XFS to Linux.
For more information: Carol Stanford, stanford@engr.sgi.com
---
Linux Links
LINUXCANADA.NET, The Future of Linux in Canada: http://www.linuxcanada.net/
Give your opinion on Linux Certification: http://www.linuxcertification.org/
Centuries 5,4,3,2,1,0 + Circadian Theory of Learning: http://people.tamu.edu/~carlson/bryson.html
The LINUX Forum: http://www.mediadrone.com/linux/
Index of Alternative Operating Systems, Linux news page: http://www.indexos.com/OS/Operating_Systems/UNIX/Linux/News/
The UNIX Guru Universe: http://www.ugu.com/
The LinuxStart.Com Project: http://www.LinuxStart.Com/
Cool URL: http://www.newsnow.co.uk/cgi-bin/NewsNow/NewsFeed.htm?Topic=*.Tech&Section=ASearchW&Search=Open+Source&ASearch=Open+Source,OSS,Apache,Linux,GNU,copyleft
Marc Merlin's LinuxWorld Expo Page: http://marc.merlins.org/linux/lwce_winter99/
O'Reilly Summit Highlights Business Case for Open Source: Press Release
Investors in Red Hat: Press Release
---
Software Announcements
---
NetBeans Ships One of the First Cross-Platform IDEs to Support Java 2
Prague, Czech Republic, March 2, 1999 - NetBeans today launched DeveloperX2 2.1, one of the first full-featured Integrated Development Environments (IDEs) to support and run on Sun Microsystems, Inc.'s Java 2(tm) platform. DeveloperX2 2.1 enables software developers to build sophisticated Java Foundation Classes (JFC) GUIs, compile, and debug applications on the platform of their choice. NetBeans also simultaneously launched a concurrent version, Developer 2.1, which supports Swing 1.1 and Java Development Kit(tm) (JDK) 1.1.
NetBeans Developer combines support for all stages of application development including visual design, coding, compiling, and debugging in a comprehensive visual programming package. It is available in two versions which run on all platforms that support JDK 1.1 and 1.2, respectively, including Windows 95/98/NT, Linux, Solaris(tm), HP-UX, OS/2, AIX, SGI Irix, and others. The IDE is based on JFC and JavaBeans Components, and all parts of the IDE are actually themselves JavaBeans. The result is an IDE where the user can fully customize the interface, modify component behavior and easily add new components.
NetBeans Enterprise will allow teams of developers to build full-scale distributed Java technology-based applications. In addition to the features of Developer, Enterprise will feature several additional modules: Version control systems support (integration with multiple vendors); database connectivity - JDBC; Enterprise JavaBeans support - EJB; distributed computing support - RMI and CORBA; and directory services - JNDI.
For more information:
http://www.netbeans.com/
---
Programming Web Graphics With Open Source Software
Date: Fri, 5 Mar 1999 10:13:39 -0800 (PST) Sebastopol, CA--Many people assume that creating web graphics requires graphics editors like Adobe Photoshop or Paint Shop Pro. But with Open Source software like Perl and GNU Image Manipulation Program (GIMP) you have the power to dynamically generate graphics based on user input and activity, easily manipulate graphics content, and optimize graphics for compression and quality.
Programming Web Graphics with Perl & GNU Software
By Shawn P. Wallace
1-56592-478-9, 470 pages, $29.95 (US$)

It's a little-documented field, and the valuable free libraries and tools available on the Internet are little publicized. From access counters and log-report graphs to scientific plots and on-the-fly animated GIFS, graphics scripting is within the grasp of most web scripters. "Programming Web Graphics with Perl & GNU Software" was written to provide a practical resource for intermediate and advanced web programmers who want to use CGI Scripts to generate dynamic graphic content.
For more information: http://www.oreilly.com/catalog/prowg/
---
Kudos to Trident
Date: Fri, 26 Feb 1999 16:20:15 -0500
I'm writing you to let you know of a recent hardware company's exceptional support to the GNU/Linux community and the GPL.
The Advanced Linux Sound Architecture project ( http://alsa.jcu.cz/) is a project designed to build an architecture for pro-quality sound and MIDI applications, from low-level drivers for sound and MIDI hardware to high level libraries and sequencers. The project is committed to releasing all work under the GPL.
As you may know, many sound card manufacturers are reluctant to give any technical help, and even some of those that offer help require NDA's, which of course excludes the possibility of release source. We have blacklisted some companies (http://alsa.jcu.cz/black.html) who have either refused to release information or have decided to release binary-only drivers, which ALSA will not use.
Trident (http://www.tridentmicro.com/) recently contacted the ALSA developer mailing list, having written their own drivers for their 4D Wave chipset for ALSA, and offering the source for the drivers. They graciously allowed all of it to be put under the GPL, including technical documents.
I am hoping to drum up support for their hardware in order for the community to demonstrate how cooperation of this sort can aid sales. Maybe this will convince more companies to follow.
Their chipset is used in the following products. If GNU/Linux users are looking towards purchasing a sound card, perhaps they would consider some of the following, since these cards are well-supported under ALSA.

Company     Product Name
=======================================
Best Union  Miss Melody 4DWave PCI
HIS         4DWave PCI
Warpspeed   ONSpeed 4DWave PCI
AzTech      PCI 64-Q3D
Addonics    SoundVision (model SV 750)
CHIC        True Sound 4Dwave
Shark       Predator4D-PCI
Jaton       SonicWave 4D
Paradise    WaveAudio Interactive (Model AWT4DX)
Promedia    Opera CyberPCI-64
Stark       PCI

You can read more about ALSA and the call to sound card manufacturers at http://alsa.jcu.cz/call.html For more information:
Thomas Hudson, Cygnus Solutions thudson@cygnus.com
---
Linux services new from VC3
COLUMBIA, SC March 15, 1999: VC3, Inc. announced today that the company will begin offering Linux services to corporations regionally. The announcement comes at a time when the Linux operating system, a UNIX-like operating system available at no charge to businesses, is gaining momentum as a cost-effective system of choice for running many business applications.
VC3 will provide Linux setup, configuration, and ongoing administration services for both mid-size and large companies in the Southeast. In addition, VC3 will support all Linux distributors that build their own versions of the Linux operating system, including Red Hat Software, Caldera Systems, and SuSE. This will enable VC3 to service and support all "flavors" of Linux.
VC3 will provide the Linux operating software as well as set up, configure, and administer the operating system for large and mid-size corporations. Installation requires about a half-day to one day. Installation and configuration prices vary from $200 to $5,000 depending on the project scope and number of servers.
For more information: http://www.vc3.com/
---
JES Linux Class
Date: Tue, 02 Mar 1999 12:43:38 -0800
Newport Beach, CA JES & Associates, Inc. is once again stepping to the forefront to meet industry demands in announcing a new course, 200L Linux Fundamentals. Designed for newcomers to Linux, the three-day course will have its debut run beginning April 5, 1999.
For more information:
http://www.jes.com/
---
Applix Launches Open Source Initiative With Applix SHELF
WESTBORO, Mass.--(BUSINESS WIRE)--March 2, 1999--Applix, Inc. (NASDAQ: APLX) a leader in decision support applications for Linux and Unix workstations, today launched its first Open Source initiative with Applix SHELF, an embeddable, full-featured programming language. With SHELF, application developers will be able to increase customization and extensibility of their applications by embedding Applixware language in their products.
Both Applixware and Applix SHELF are available for all major distributions of Linux, including Red Hat, SuSE, Caldera, and Slackware. They are also available for Sun, IBM, Compaq, and Hewlett Packard Workstations, as well as for Microsoft Windows 98 and NT. Applix SHELF is being released under the GNU Library Public License (LPGL), as defined by the Free Software Foundation, Cambridge, MA. Under LPGL, Applix SHELF is freely usable in either the original or modified form. It is available now for free download at Applix's new Open Source-oriented website.
For more information:
Applix, Inc., http://www.applixware.org
---
esh -- A New UNIX Shell
esh is a new shell for Unix, written completely from scratch. It is very small, both in number of lines of source code and in memory consumption. The whole shell is about 5000 lines of C source code, and occupies about twice as little memory as bash in some cases.
However, esh is also extremely flexible, with a real programming language at the core. The syntax is a simplified form of Scheme.
For more information:
Ivan Tkatchev, http://esh.netpedia.net
---
Debian GNU/Linux 2.1 'Slink' released
Date: Wed, 10 Mar 1999 12:06:46 -0500
Debian GNU/Linux 2.1 'Slink' has officially been released on March 9, 1999 for the SPARC, Intel x86, Alpha, and Motorola 680x0 architectures. Release notes, installation instructions, and other information is available at http://www.debian.org/releases/slink/
Debian GNU/Linux 2.1 contains over 2250 precompiled binary packages contributed from over 400 developers, including all of the favorites: web servers, GIMP, gcc, egcs, XFree86, SQL servers and many other tools and utilities.
Debian's new powerful package manager 'apt' allows for easy installation, maintenance and updating of packages including sophisticated handling of dependencies and configurations. Packages from other distributions can easily be installed using the 'alien' utility.
For more information:
Debian Press Contact, press@debian.org
Debian homepage: http://www.debian.org/
---
PROFUSO Mail Gateway
Date: Wed, 10 Mar 1999 13:00:24 +0000 (/etc/localtime)
PROFUSO proudly announces version 1.0 of PROFUSO Mail Gateway "Personal Edition", the freely available personal email to WWW gateway.
We can make this powerful software available for free because the development of Personal Edition is supported by its commercial edition (PROFUSO Mail Gateway Server Edition), that is multiuser and lets you create web based e-mail services (like H*tmail).
PROFUSO Mail Gateway is a server software for the Linux operating system that allows to send and receive e-mail using only a web browser. PROFUSO Mail Gateway extends all the functionality of e- mail, including multimedia and attachments, over the WWW. When installed on your Linux web server, all you need for e-mail is your favourite browser.
PROFUSO Mail Gateway is available in two versions: "Personal Edi- tion", that is single user and freely available from our WWW site and "Server Edition", that is commercial and multiuser and lets you create your own free web e-mail service in minutes.
You can download your free copy or obtain more information on the Server Edition at our site:
http://www.profuso.com/products.html
For more information:
Giuseppe Zanetti, beppe@profuso.com
---
WebEvent! Web-based calendar software
Date: Thu, 25 Mar 1999 01:15:42 -0500
Please add WebEvent, our web-based calendar and scheduling software to your list of Internet applications. WebEvent has been available for Linux since 1995 and the commercial version has been around for over a year and a half.
WebEvent is an interactive web-based calendar that allows you to view and modify calendar-type events from any computer that can run a web browser. Features include multiple views and formats, event types, repeating events, event reminders, searchable calendars, meta-calendars, conflict resolution, source coude, and an easy to use web-based interface.
For more information: http://www.MatadorDesign.com/
---
SuperAnt CD-ROM with Mini-Distributions
Date: Wed, 24 Mar 1999 17:56:19 -0800
SuperAnt is announcing that effective immediately, they will be making available a Mini Linux Distribution CD-ROM. The Mini Distribution CD-ROM contains small rescue releases of Linux and packaged Linux systems that require only diskettes to boot from. Some contain XFree for Linux, allowing graphics use on properly configured systems. Some of the included distributions are Small Linux, Trinux, Linux Router Project, muLinux, Toms Disk, and LEM. The CD-ROM contains more than 600 megabytes of files.
SuperAnt is a Linux and Open Source technology provider and packager, selling and marketing business and recreation CD-ROMS on the Internet.
For more information: http://www.superant.com/
Steven Gibson, superant@superant.com
---
HELIOS products and support for Linux
March 18, 1999- CeBIT '99, Hannover, Germany, Hall 9, Booth C25- HELIOS Software GmbH announces the availability of its EtherShare 2.5, EtherShare OPI 2.0, PDF Handshake and Print Preview products for the Linux operating system on computers based on Pentium processors. HELIOS PCShare 3 will also be available for Linux later this summer.
HELIOS Software supports Linux with its file server, print server and PrePress applications on the HELIOS CD014, available in April. HELIOS CD014 includes a minimal Redhat Linux runtime to support the HELIOS software applications as well the Linux TCP/IP, NFS, FTP and Web services to serve Macintosh, Windows, UNIX and Internet clients.
For more information: info@ugraf.com, http://www.ugraf.com/
HELIOS Software Gmb, http://www.helios.com/
---
Communicator 4.51 now available for Linux
Date: Tue, 09 Mar 1999 08:49:20 -0800
Netscape just released Communicator 4.51 today (Tuesday, March 9), including the Linux version. This is the first update to Communicator 4.5 since its release last October. It includes a Netscape branded version of AOL Instant Messenger 2.0 (enabling group chat), Quotes Anywhere (via Smart Browsing keywords), improved stability and in addition to several performance enhancements, this release corrects potential security vulnerabilities reported in recent months by independent programmers.
Communicator 4.51 is available for download via Netscape Netcenter at http://home.netscape.com/download/
---
Published in Linux Gazette Issue 39, April 1999
---
---
This page written and maintained by the Editor of Linux Gazette, gazette@linuxgazette.net
Copyright © 1999 Specialized Systems Consultants, Inc.