"Linux Gazette...making Linux just a little more fun!"
---
| | |
| --- | --- |
| | Contents: |
---
News in General
---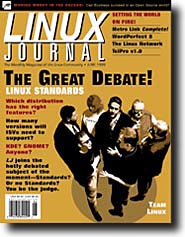 June 1999 Linux Journal
The June issue of Linux Journal will be hitting the newsstands May 14. This issue focuses on Standards with an article by Daniel Quinlan about what's happening with the Linux Standard Base Project and one in which the various distributions tell us how they feel about standards. Linux Journal now has articles that appear "Strictly On-Line". Check out the Table of Contents at http://www.linuxjournal.com/issue62/index.html for articles in this issue as well as links to the on-line articles. To subscribe to Linux Journal, go to http://www.linuxjournal.com/ljsubsorder.html.
For Subcribers Only: Linux Journal archives are now available on-line at http://interactive.linuxjournal.com/
---
Open Source Modeller for Povray & AutoCAD forming nicely
Date: Thu, 29 Apr 1999 12:00:41 +1200

An Open Source 3D Modelling program using GTK is shaping up; it's called "Giram" (Giram Is Really A Modeller). Giram can already create scenes and provide a front-end to Povray, the clever part being that it both reads and writes Povray scripts - the only one that does that we know of. AutoCAD import and export filters are shaping nicely and we would like to include other formats too. Animation and post-production features are planned.
If you are interested, or would like to help create the free 3D modeller that Linux so badly needs, please visit the Giram website.
For more information:
http://www.minet.net/giram/
---
LinuxGT Release Date Announcement / Drawing info
Date: Fri, 30 Apr 1999 08:40:56 -0500
LinuxGT is happy to bring you the OFFICIAL release dates for the LinuxGT CD and ftp. May 5th we will begin taking orders via telephone, web, and snail mail. May 10th we will begin shipping the LinuxGT CD with (1)Bootable CD, (2) Floppy Disks (One for graphical install without a bootable CD BIOS, one for non-VGA Installation), (1) Quickstart Booklet, and (1)Users Guide. We are STILL Taking pre-registrations, please see the note about the drawing below.
** DRAWING ** : Pre-Register, and you will be entered into the drawing for the FIRST PRINT CD of LinuxGT! Not only do you get LinuxGT FREE, but you get the very first package! (They are numbered sequentially). Hey, we'll even foot the shipping bill! Pre-Registration does NOT mean you are obligated to purchase.
To pre-register, simply visit http://www.greysite.com/ordering.html or http://www.greysite.com/ and click the links!
For more information:
Rick Collette, corick@bgosh.com
---
Tripwire Expands into Japan
PORTLAND, Ore. - April 19, 1999 - Tripwire(tm) Security Systems, Inc. (TSS), a leading supplier of information security solutions, selected its first Japanese distributor today. The agreement with Tokyo-based Matsushita Inter-Techno Co. (MITC) will support and expand the growing Japanese demand for TSS' Tripwire(tm), the most widely deployed File Integrity Assessment (FIA) tool for the Unix platform.
For more information:
Matsushita Inter-Techno, Co. Ltd. (MITC) Tripwire Security Systems, http://www.tripwiresecurity.com/
---
Sane Solutions Announces Alliance with HP
NORTH KINGSTOWN, RI - March 29, 1999 - Sane Solutions, LLC today announces an alliance with Hewlett-Packard Company to offer Sane Solutions' NetTracker Internet usage tracking software as part of HP's worldwide Covision Internet solutions program. Through the Covision alliance, Sane Solutions, HP and other Covision members will work together to deliver comprehensive Internet solutions to meet specific customer needs, including electronic commerce and other high value-added Internet solutions.
NetTracker is server-based software designed to analyze the traffic from multiple web servers, proxy servers, firewalls & FTP servers and provide companies with detailed information about their web site visitors, as well as their employees' use (or abuse) of the Internet.
For more information:
Sane Solutions,http://www.sane.com/ HP's Covision Program, http://www.hpcovision.com/
---
Strategic Alliance Between Corel, KDE and Debian
Ottawa, Canada - April 21, 1999 - Corel Corporation (NASDAQ: COSFF, TSE: COS) today announced an alliance with two major Open Source developer communities to advance the development of its proposed Linux distribution; a user-friendly Linux installation and graphical user interface (GUI) for the desktop PC.
Corel and the K Desktop Environment (KDE) Project will be working together to enhance the KDE GUI for inclusion in the upcoming Corel version of Linux, aimed for the desktop user.
Corel will also build its desktop Linux offering around the Debian GNU/Linux distribution, which already has one of the largest installed bases in the Linux community, and is known for its stability and security.
With a recent alliance with Cygnus, which will provide Cygnus GNUPro software technology to enable Corel to move its market-leading productivity applications to Linux, Corel is firmly on track to deliver its proposed Linux distribution to the market by the fall. This will be in advance of its WordPerfect Office 2000 for Linux productivity suite and CorelDRAW 9 for Linux graphics application in the fourth quarter and beginning of 2000 respectively.
For more information:
Corel Corporation, http://www.corel.com/
The K Desktop Environment, http://www.kde.org
Debian GNU/Linux, http://www.debian.org/
---
Linux Links
The High School Underground site: http://www.hsunderground.com/
Database of Linux resources: http://www.LinuxStart.Com/
Italian ``HOWTO book'': http://www.pluto.linux.it/ildp/
Comdex 99 Photos: http://www.bwill.net/comdex/
SoundPro Sound Card: http://home.gelrevision.nl/~h.wolter/CMI8330_Mini_HOWTO.txt
---
Software Announcements
---
O'Reilly Guide to Learning Python Released
Date: Mon, 19 Apr 1999 12:53:03 -0700 (PDT)
Sebastopol, CA--O'Reilly has announced the release of a new beginner's guide to Python, "Learning Python" by Mark Lutz & David Ascher. Python is gaining in popularity as an object-oriented language for writing standalone programs, quick scripts, and prototypes of complex applications. Python is free, open-source, and easy to use. Python scripts are portable across many platforms, including all major Unix systems, Linux, Windows 95/98, Windows NT, and MacOS.
For more information:
http://www.oreilly.com/, order@oreilly.com
---
HP Delivers 24x7 Worldwide Support for Linux...
PALO ALTO, Calif.--April 20, 1999--Hewlett-Packard Company today announced the availability of HP Linux support services, which provide customers with around-the-clock, worldwide support of Linux and HP Linux applications. HP's new support services include a maximum two-hour response-time commitment, and immediate response for critical calls, on multivendor Intel- based platforms. HP is mobilizing on all fronts to meet the anticipated strong demand for Linux systems, software and services.
For more information:
Hewlett-Packard Company, http://www.hp.com/
---
Linux GNUPrO Tools for Intel's Future IA-64 Processors
SUNNYVALE, Calif., April 26, 1999 - Cygnus Solutions today announced it is working closely with Intel to optimize its industry leading GNUPro software development tools for Intel's future IA-64 Architecture, beginning with the Merced processor. With this announcement, Cygnus' market leading Linux tools now span all key Intel processors, beginning with the latest Celeron;, Pentium II and Pentium III processors, as well as high performance, low power StrongARM processors.
The GNUPro Toolkit for the IA-64 Architecture will be available from Cygnus when Intel's Merced moves into production in mid 2000.
For more information:
Cygnus, info@cygnus.com, http://www.cygnus.com/product/gnupro.html
---
Arco Announces New IDE Backup Device DupliDisk
HOLLYWOOD, Florida (April 22, 1999) -- Arco Computer Products, Inc., www.arcoide.com, a leading provider of low cost IDE disk mirroring technology, today announced the DupliDisk-POS, a real-time backup device designed for small chassis PC users who want the security of a duplicate hard drive but not the high cost of a SCSI RAID system.
For more information:
ARCO Computer Products, Inc., arco@arcoide.com, http://www.arcoide.com/
---
Programming with Qt Book Release
Date: Fri, 23 Apr 1999 09:48:58 -0700 (PDT)
Sebastopol, CA--Qt is an easy-to-use, multi-platform C++ GUI toolkit. With Qt, a developer can write an application once and run it on UNIX, Windows 95/98, and Windows NT platforms. Linux developers can acquire Qt for free (unless they wish to develop closed-source commercial applications in which case they must purchase a license). Now O'Reilly and Associates has published a book on Qt"Programming with Qt" by Matthias Kalle Dalheimer.
Qt's benefits are impressive, but the learning curve can be steep. Qt comes with excellent reference documentation, but beginners often find the included tutorial is not enough to really get started with Qt. "We felt there was a need for a book that guides you through the steps of writing a Qt application and presents all of the GUI elements in Qt, along with advice about when and how to use them, so that you can make full use of the toolkit." said Elke Hansel, Managing Director of O'Reilly Germany, "There's also lots of information for seasoned Qt programmers, including material on advanced 2D transformations, drag-and-drop, and writing custom image file filters."
For more information:
http://www.oreilly.com/, order@oreilly.com
---
Penguin Computing Announcement
San Francisco, CA - April 1 - Penguin Computing, Inc., the nation's largest and fastest-growing company focusing exclusively on turn-key Linux solutions, announced today that it now begun offering Linux-based computer systems that use AMD K6 series processors from Advanced Micro Devices Inc.(NYSE: AMD). These desktops, servers and workstations offer all the reliability of a Penguin system with the speed of an AMD K6 series inside. To mark the expanded offering, Penguin is pricing systems featuring high performance AMD processors extremely aggressively, starting at just $990.
For more information:
Penguin Computing, http://www.penguincomputing.com/
---
Linux Announcements from Dell and Red Hat
ROUND ROCK, Texas--April 26, 1999--Dell Computer Corporation, the world's leading direct computer systems company, today announced it plans to factory-install the new Red Hat Linux 6.0 operating system on select, "Red-Hat Ready" certified configurations of its PowerEdge(R) servers, Dell Precision(tm) WorkStations and OptiPlex(R) business desktop computers.
Dell is also the first company to receive multiprocessor certification from Red Hat for its four-processor PowerEdge 6300 enterprise server and its dual- processor Dell Precision WorkStations. Dell will offer the new Red Hat software factory-installed on configurations of its PowerEdge 1300, 2300, 4300, 4350, 6300 and 6350 servers; Dell Precision 410 and 610 WorkStations; and OptiPlex GX1 and GX1p desktop PCs.
Red Hat Linux 6.0, which was announced by Red Hat today, adds symmetric multiprocessing support for up to four processors and other new features to deliver improved performance and reliability in enterprise and Internet applications that run the day-to-day business of companies worldwide.
For more information:
Dell Computer Corp., http://www.dell.com/products/poweredge/linux/ Red Hat Software, http://www.redhat.com/
---
Linux Announcements from IBM, Red Hat and Caldera
SOMERS, N.Y.--April 26, 1999--IBM today announced its award-winning ViaVoice speech recognition technology is available for the Linux operating environment. ViaVoice is the first commercial speech recognition technology to be ported to the Linux environment.
IBM's initial Linux offering will include a beta version of IBM ViaVoice Software Developers Kit (SDK) for Linux, IBM ViaVoice Run Time Kit for Linux and open source sample applications. These technologies provide the foundation for application developers to incorporate speech recognition technology into the next generation of applications. The initial beta version of ViaVoice engine and SDK for Linux is available in U.S. English. Red Hat Software will be the first to distribute IBM's speech technology as part of the company's Linux 6.0 Application CD(a), also announced today. In the coming months, IBM plans to extend its ViaVoice for Linux offering to support a variety of languages, additional content and distribution channels, including Caldera Systems.
In addition to offering its ViaVoice SDK and engine for Linux, IBM will host a Web site for new technology downloads and a discussion group for technical information and collaboration with fellow developers. For more information about these services, visit IBM at http://www.software.ibm.com/speech/ and select "Linux."
For more information:
IBM Speech Systems, http://www.software.ibm.com/speech/
Red Hat Linux, http://www.redhat.com/
Caldera Systems, http://www.caldera.com/
---
Official Red Hat Linux 6.0
Durham, N.C.--April 26, 1999--Red Hat=AE Software, Inc., a developer and support provider of the Linux operating system, today announced Official Red Hat Linux 6.0. This major new release of the award-winning Red Hat Linux server operating system (OS) adds symmetrical multi-processor support (SMP) for up to four processors and many other new features to deliver tremendous horsepower and reliability for the most demanding enterprise and Internet applications running the day-to-day business of companies worldwide.
Red Hat Linux 6.0 includes the new Linux 2.2 kernel. The new kernel supports more hardware and improves the overall performance of the Linux OS. The Red Hat Package Manager (RPM) is freely available under the GPL license and automatically installs and updates the various pieces of the Linux OS and lets systems administrators easily distribute Linux across the enterprise.
Red Hat Linux 6.0 has pricing options available from $39.95 to $79.95. It can also be downloaded from ftp.redhat.com immediately.
For more information:
Red Hat Software, http://www.redhat.com/
---
Linuxcare and Terra Soft Solutions
Linuxcare Inc. --the first company to provide complete technical support, consulting, education and product certification for Linux--recently joined forces with Terra Soft Solutions, developers of Yellow Dog Linux (www.yellowdoglinux.com) for Apple Macintosh PPC and G3s, to provide enterprise-class support for Yellow Dog Linux solutions.
Linuxcare draws from a worldwide network of Linux developers and experts to offer 24 x 7 Linux support services. Known for its vendor-neutral support of Linux software offerings, Linuxcare adds Yellow Dog Linux to the roster of major Linux distributions supported by the firm's per-incident, Bronze, Silver, Gold, and Platinum technical support packages. Yellow Dog Linux offers a compelling solution for Macintosh environments looking to adopt the proven OS platform: Linux.
For more information:
Linuxcare, Inc., http://www.linuxcare.com/
Terra Soft Solutions, Inc., http://www.terrasoftsolutions.com/
---
Linux Announcements from Pacific HiTech
Date: Thu, 29 Apr 1999 07:18:46 -0700
Pacific HiTech is the first major Linux company to ship a general purpose Linux server package, TurboLinux Server. TurboLinux Server, to be released for general shipment in North America in June, is now available in Japan. Pacific HiTech has already shipped more than 30,000 copies through systems integration, retail, and magazine bundle distribution channels.
TurboLinux Server makes it easy to install and administer a Linux server to a server on a company's web site, e-mail, file and print serving and FTP. The installer also performs automatic partitioning and offers different Linux kernel types from SMP (more than one processor) to APM (advanced power management). In addition, it features built-in virus and security protection. Bundled with TurboLinux Server is commercial backup software as well as drivers to support the most popular server RAID and UPS solutions.
Pacific HiTech will also announce that it is the first major distributor of Linux in Chinese, having shipped more than 110,000 units of TurboLinux to date to the People's Republic of China.
For more information:
Pacific HiTech, http://www.pht.com/
---
PowerQuest's Lost & Found
Johannesburg, 3 May 1999 - The Chernobyl virus, which was responsible for destroying data from thousands of hard drives throughout the world, has proven just how powerful PowerQuest Corporation's data recovery tool Lost & Found can be when facing damaged data. People throughout the world are using Lost & Found to retrieve files from their Chernobyl-infected computers and, in all known cases, have recovered 100 percent of the lost, deleted or corrupted data. Search & Rescue, the enterprise version of Lost & Found, is also being used to help businesses recover from virus infections. Both products are available from Johannesburg-based software distributor OS/2 Express SA.
Lost & Found is a fast and easy way to restore lost data on your PC. Lost & Found automatically recovers and restores data after virus infection, accidental (or intentional) data loss, a disk crash or logical system failure. As long as the disk is still spinning, Lost & Found can locate and recover almost any lost file for FAT and FAT32. In addition, Lost & Found does not need to be installed prior to data loss.
OS/2 Express SA markets utilities, tools and applications for Windows, OS/2 Linux and Netware, including all PowerQuest products, as well as Linux distributions, including RedHat, SuSE, OpenLinux, Slackware, TurboLinux, Mandrake, Debian, FreeBSD and LinuxPro
For more information:
Power Quest, http://www.powerquest.com/
OS/2 Express, os2express@icon.co.za, http://www.os2.co.za/software/
---
Published in Linux Gazette Issue 41, May 1999
---
---
This page written and maintained by the Editor of Linux Gazette, gazette@linuxgazette.net
Copyright © 1999 Specialized Systems Consultants, Inc.